Thanks to collaboration with Domuni (www.domuni.eu), the Dominican University Online, we offer IDYM members, free of charge, a course about Dominicanism to support personal formation and to reflect together with other young people in this community study experience.
The course is aimed at all members of IDYM who are interested in exploring the life of Saint Dominic and the Order and his dedication to preaching. This is a great opportunity to access quality training and in an innovative way.
The course will run entirely on an online training platform from Domuni and therefore will need an Internet connection or access to it. Each participant will be asked to read or display materials from each one of the stages and reflect their thoughts on the subject in their forum assigned by language: Spanish, English or French. You can access the training materials for all languages, but should only participate in the forum of the language chosen for the course. We also have additional reference materials and we can add those that are proposed by the students themselves.
We want to use this space as a place of study and shared reflection, so it is important to have active participation of those entering the course. Since it is free, active participation is a commitment that must be accepted by every IDYM members who chooses to register for this course. They should also be able to read and write properly in the language of the course you choose: Spanish, English or French.
The course will be conducted in 3 stages of three weeks each, plus an initial stage for presentations and introductions. This organization gives enough time to develop each of the stages reflectively and without neglecting usual occupations and responsibilities. The stages are:
April 6-12, 2015 / Initial Stage: Introduction and Presentation of Students
April 13-May 3, 2015 / 1st Stage: Who is Dominic?
May 4-24, 2015 /2nd Stage: Preaching
May 25-June 14, 2015 / 3rd Stage: An Evangelized Institution
Enrollment
The number of students accepted is limited, 25 entries per language (Spanish, English and French), so it's important to register early to avoid running out of space in this unique opportunity. The registration process will be March 5-31 and the order of arrival of requests will be respected.
Go to the Application form of the course
Registration will take place through an online form, which will be enabled starting March 5th. All IDYM members who are wishing to register must also inform the national coordinator of their country after filling out the form. Every registration will be verified to ensure their membership in the movement.
For more information please contact:
Fr Michel Van Aerde op, michel.vanaerde@domuni.eu (English, French and Spanish)
Lyamar Díaz; IDYM Formation Chair, formation.idym@gmail.com (English and Spanish)
Jose Alberto; IDYM Coordinator, idym@curia.op.org (Spanish and English)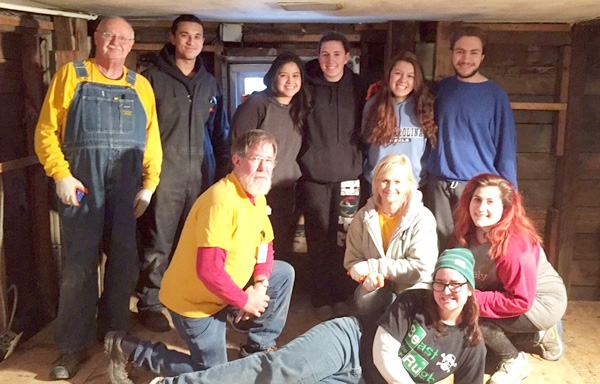 Dominican Young Adults
Molloy College students help rebuild on Long Island
By Gina Fleming, OP (Amityville)
The week of Jan. 4–8, eight members of the Dominican Young Adults Chapter at Molloy College came together to participate in a service project on Long Island, New York, to help repair damage caused by Hurricane Sandy. This year's build was a three-way collaboration among United Baptist Disaster Relief Services, United Methodist Disaster Relief Services, and Dominican Young Adults. Two associates from the Dominican Sisters of Amityville also participated, along with two others from the local community.
The week began with arrival on Sunday evening, settling into bedrooms, a short tour of the house, dinner, and an overview of the plan for the week. This was followed by an opening prayer service.
Much to their dismay, the students had to rise each morning (sometimes with some prompting) at 7:15 a.m., prepare their breakfast, make their lunch (which they needed to bring to the site each day), and be ready to leave by 8:15 a.m. Quite a challenge for young people who were on break… but they were real troopers and were ready to go.
Usually because of the number of participants, we would have to break up into two groups, but not so this time. We all had the opportunity to work and experience everything together. At the sites, the students had the opportunity to engage in all types of work.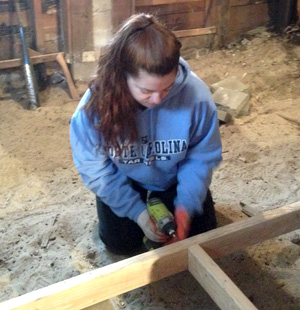 Our initial task was to build a floor in one of the basements in Long Beach that had been wiped out by the storm. All that remained of the basement were the two by fours and about three feet of beach sand. I must admit, we were a little taken back when we entered and realized our project. But with the help of an experienced carpenter who worked alongside us, the floor was laid in two days. There was a lot of measuring, cutting, hammering, and nail driving that had to be done in a very confined area, but we felt very good when the floor was done.
We worked at four other sites during the week. The students had a variety of odd jobs which included cleaning , mudding, sanding, and priming the bare walls. There was much to do, but we were determined to do what was necessary to speed up the resettling of the families that once lived in these homes. The young people working alongside those of us who are a bit older hit it off right away, and the work, though exhausting at times, was done in a wonderful spirit of laughter and fun.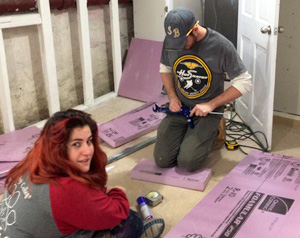 At each work site, we had the opportunity to meet the people who owned the home we were working on. With tears in their eyes, they spoke of their gratitude to these young volunteers. Before we left any of the sites, we promised that we would pray for the residents of each home and ask God to help make their dream of finally "coming home" a reality.
To make the service project more meaningful and to have opportunity to reflect on our daily experiences, the Amityville Dominican Sisters' Dominican House of Hospitality housed all of the volunteers for the entire week. Each evening, the core community of the house, along with the Dominican associates, had dinner on the table ready for us when we returned home. We are truly indebted to their generous spirit of hospitality and service. On one of the evenings, we had pizza and prayer with the sisters at St. Ignatius Convent. The sisters were so gracious to our young people and very interested in their experiences thus far. Another great experience for these young Dominicans of Dominican hospitality and "Family."
After dinner, the young people gathered to pray and speak about their day. What or who touched them, and where might they have encountered God in their experience. As you might guess, the prayer and reflection were powerful each night.
This entire experience was a true expression of what we mean by "Dominican Family." Different parts of the family (vowed religious, associates, and Dominican Young Adults) all worked together to make this week a positive experience for all. No one of us did it all, but all of us did our part.
Soon it was time to say goodbye. It was a good feeling knowing that we left the houses in much better shape than they were in when we arrived. It was also a good feeling knowing that each of us in our own small way assisted in "Continuing the Preaching " in our own lives and the lives of those we met in Long Beach, Massapequa, Bayshore, Valley Stream, and North Woodmere.
Sister Gina Fleming, OP (Amityville) is director of Dominican Young Adults USA, and director of the Dominican College Preaching Conference.